Wrexham police tackle night-time incidents at burger bars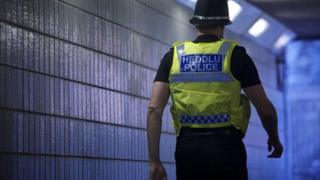 A rise in late-night anti social behaviour in Wrexham town centre has prompted police action and a call for fast-food outlets to help.
North Wales Police have been called to 100 incidents near McDonald's alone since May 2013, of which 40 were after midnight.
Restaurant bosses said they have introduced CCTV and security staff at busy times.
Ch Insp Neil Maxwell said he expected other businesses to take action.
He said police did not want a "yobbish minority to spoil things for everyone else".
'Drain on vital resources'
The force said while night-time disorder is often associated with clubs and pubs, its figures show a number of young people are involved in trouble near food outlets in the early hours.
Mr Maxwell said: "It is totally unacceptable that members of the public and staff working in the night time economy are regularly placed in such a vulnerable position and that police officers are repeatedly called on to deal with such incidents.
"We are working hard in partnership with the council to support fast food outlets and most are reciprocating.
"McDonald's are making changes and I expect the management of all such establishments to do everything possible to work with us and our partners to see what we can do to reduce these incidents which are a very costly drain on vital resources."
A McDonald's spokeswoman said: "We currently have a number of measures in place on Regent Street in Wrexham to encourage good behaviour in and around the restaurant, including CCTV, security personnel present in-store on a Friday and Saturday night along with being part of the town centre radio link.
"Our security department will continue to work closely with the restaurant team and the local police on this issue."