Crashed car in Prestatyn ends up in Bar 236's lounge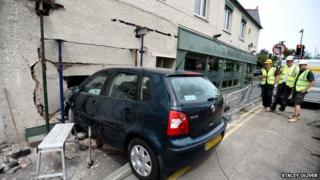 A car has crashed into the lounge of a pub in Denbighshire causing thousands of pounds worth of damage.
The Volkswagen Polo sent a sofa hurtling 10ft (3m) across the room at Bar 236, Meliden Road, Prestatyn, on Thursday.
Bar supervisor James Campbell-Stephen said no-one was hurt.
"The sofa in the lounge area was pushed across the room," he said. "Lucky no-one was sitting there at the time."
The car has been removed and the building is being made safe.