Plas Madoc Leisure Centre £50,000 help bid rejected in vote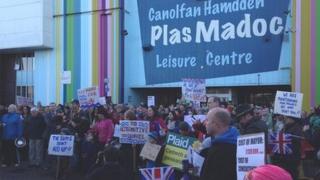 Councillors in Wrexham have rejected a motion calling for a £50,000 grant to be given to a community group trying to reopen Plas Madoc Leisure Centre.
It closed in April as part of spending cuts across council services.
But the Splash Community Trust, born out of the huge opposition to its closure, has been working on a business plan to get the swimming pool and leisure centre open again.
The deadline for demolition of the building is 30 September.
On Tuesday, the opposition independent group of councillors put a motion to the authority's executive board asking for a grant to help kick-start the group's funding applications.
It also called for the demolition deadline to be extended to the end of October to give them more time.
But the move was rejected by six votes to two.
A report will now go before the council on 9 September where a decision will be made on whether to transfer the running of the centre to the trust.
But group members raised concerns following the meeting that it would give them very little time to recruit staff.