Missing Arthur Jones: Body in Crete is dad's, says son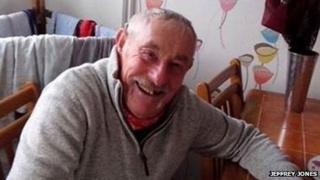 A body found in Crete is that of missing Denbigh pensioner Arthur Jones, his son has confirmed.
Jeff Jones said his father's body was formally identified on Tuesday night.
Mr Jones, 73, had not been seen since 19 June - two days after he arrived on the island.
His son said a post-mortem examination revealed no medical episode and it is presumed, based on the remote location and temperature, that he was dehydrated and suffered heat exhaustion.
The family were informed of the discovery of a body on Monday.
North Wales Police, who confirmed the body was that of Mr Jones on Wednesday, said he was found "sitting under a tree" with some of his personal belongings.
Search
Officers said his location followed the theory he had gone out for a walk and sought shade after suffering "some form of medical episode".
On Monday his son said it was "deeply upsetting" to finally receive some news on his father, but it was comforting to know he had been doing something he enjoyed when he died.
The alarm was raised when Mr Jones failed to turn up for his flight home on 24 June.
In the past two months North Wales Police officers, mountain rescue teams and the pensioner's family and friends have travelled to the island to help with the search.
Official searches focused on the area near his hotel and a war cemetery where he signed a visitors' book.
A Facebook campaign to Find Arthur attracted support from over 3,000 people and Prime Minister David Cameron also pledged to do "everything he can" to help find Mr Jones.
A book of condolence will be opened for Mr Jones at Denbigh library on 11 August.