Book of condolence opens in Denbigh for Arthur Jones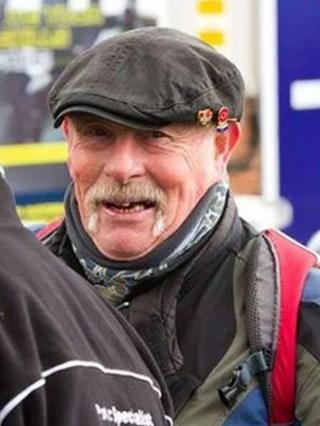 A book of condolence has been opened in Denbigh for pensioner Arthur Jones who died on a walking holiday in Crete.
The body of the 73-year-old experienced walker was found under a tree in a remote area last Sunday, more than six weeks after he went missing.
His family said he may have been dehydrated and suffering from heat exhaustion.
The book opening at the Plas Pigot Club was part of a day for locals to celebrate the ex-soldier's life.
The day had originally been planned as a fundraising event to help pay for the search operation before Mr Jones' body was found.
Remote area
The pensioner arrived in Crete in June for a week's holiday but the alarm was raised when he failed to catch his flight home on 24 June.
Extensive searches, including some involving family and friends who had flown out from the UK, failed to find anything.
But last weekend a local man came across Mr Jones' body under a tree in a remote rural area.
His son Jeff, who flew out to Crete said that a post-mortem examination showed that there had been no medical episode, but that it was presumed, based on his remote location and the hot weather, that Mr Jones had been dehydrated and suffering from heat exhaustion.
It is possible that he had been looking for a memorial to the British Army cadets not far from where his body was discovered.
A Facebook campaign to Find Arthur attracted support from more than 3,000 people.