Flintshire council to host Twitter debate on £18m cuts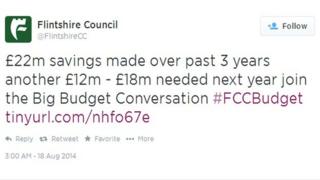 A council leader facing budget cuts of £18m has invited local residents to join a Twitter debate on where the axe should fall.
The appeal by Aaron Shotton is part of Flintshire's Big Budget Conversation launched on Monday with an online survey.
The authority warned it had to make "big choices" as it faces cuts of up to 4.5% in Welsh government funding.
People could be forced to pay for some services or see them scrapped, it said.
Like other councils across Wales, Flintshire is preparing for funding cuts of between 1.5% and 4.5% for 2015/16.
It claims that would result in a budget shortfall of £12m to £18m.
The consultation includes:
An online survey until 12 September inviting people to share their views on which services should be saved or cut
A live Twitter debate on 1 September with council leader Aaron Shotton and chief executive Colin Everett
A series of public meetings around Flintshire in late autumn
Forms available from libraries and council office reception areas with a closing date of 12 September.
The council warned that all services - including education, social services, leisure, libraries and waste collection - would come under scrutiny.
The outcomes of the consultation will be published later in the year on the council's website and in its e-magazine.