Wrexham Industrial Estate broadband speed row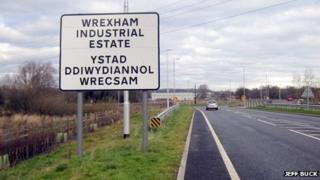 Firms on Wrexham Industrial Estate say poor broadband speeds are hitting their business hard.
Despite superfast broadband being rolled out across most of Wales, bosses on the industrial estate say they are losing out.
Wrexham council said staff are in discussions with Welsh government about the concerns.
Deputy Skills and Technology Minister Ken Skates said he aims to resolve the issue as quickly as possible.
The Welsh government signed a deal with BT in 2012 to roll out super fast broadband across Wales.
"It's ludicrous," said Richard Colgate, general manger at manufacturer Unimaq which is based on the industrial estate which is one of the biggest in Europe.
"In a modern business in this day and age it is completely unacceptable."
He said firms on the estate, which employ about 7,000 people, have been concerned about broadband speeds for a number of years.
A report to councillors includes a copy of a letter from Mr Skates in which he says the Welsh government is "acutely aware of the problems experienced by businesses" on the industrial estate.
He says the estate has previously had investment towards improving connectivity.
However, Welsh government has now been allocated £12.1m from the UK government towards its Superfast Cymru rollout programme which should allow remaining areas to be covered, said Mr Skates.