Wrexham council 'business as usual' despite resignations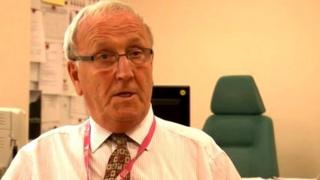 Wrexham council's top officer says it will function as normal despite 10 councillors quitting its largest party.
Chief executive Helen Paterson told staff that despite the "political uncertainty" it is their role to continue to serve residents.
With 23 members, Labour was the biggest group on the council, running the authority with independent councillors.
But 10 councillors, including council leader Neil Rogers, have just quit the Labour group and the Labour Party.
They have blamed "interference" in Labour group meetings by unelected local party "liaison officers".
Welsh Labour has described the resignations as disappointing, saying further discussions will take place over the coming days.
In a letter to staff, Ms Paterson said the 10 councillors continue as elected members representing the public in their wards.
Demolition date
She added that the leader, deputy leader and executive board members remain in their roles and active within them unless a full meeting of the council - next due on September 24 - decides otherwise.
"In times of political uncertainty it is important that all staff remember that we serve the whole council and the people of Wrexham," she said.
"Day to day business continues as usual with us focusing on our customers and doing our best for them."
Meanwhile, the fate of a Wrexham leisure centre hangs in the balance after the resignations led to a crucial meeting being postponed.
A community group is hoping to reopen Plas Madoc Leisure Centre after Wrexham council closed it in April saying it could no longer afford its upkeep.
Next week's meeting to decide whether the trust can take it over has now been provisionally set for October..
However, before the political upheaval, the council decided to flatten the leisure centre with September 30 earmarked as the demolition date.