Rare little terns site at Gronant sees 77 chicks fledge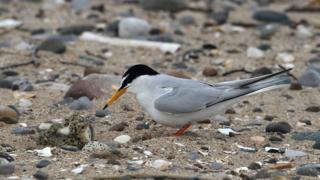 A rare seabird colony on a north Wales beach has seen its highest number of chicks for four years.
The sand and shingle dunes at the Gronant on the Dee Estuary host Wales' only breeding colony of little terns.
The site, near Prestatyn, produced 77 fledglings from 128 pairs this year, the most since 2010.
Denbighshire council said increased volunteer warden patrols had helped keep down human disturbance and predators such as foxes and kestrels.
The birds, which feed on sand eels, make the 4,000-mile (6,500 km) trip from west Africa in order to nest on the shingle ridge, amongst the sand dunes in Gronant.
A five-year EU partnership aims to make sure the bird has a long-term recovery in Wales.
Two years ago Denbighshire council put up a one-and-a-half mile (2.5 km) fence which is electrified at night to protect the birds from foxes.
In addition to natural predators, the birds also face loss of habitat through development as well as winter storms.
Andrew Farrell, of the council's countryside service, said: "Little terns used to nest all along the north Wales coastline, and by gaining support from local people to give the birds space within the roped fences, we hope they will return to sites such as Rhyl harbour and Abergele in the future.
"This will reduce pressure on their current site."