Tribute to Judith Garrett after Llangollen bike race death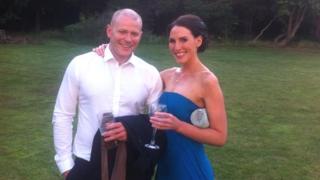 A woman who died after being struck by a mountain bike during a race has been described as "the most beautiful, loving daughter" by her father.
Spectator Judith Garrett, 29, of Prudhoe, Northumberland, had been at the race in Llangollen, Denbighshire, to watch her boyfriend compete.
Bill Garrett said: "Everyone is going to miss her terribly."
On Monday, North Wales East and Central coroner John Gittins adjourned Ms Garrett's full inquest to January 2015.
Ms Garrett was struck as she watched a downhill mountain bike race on 31 August which was part of the Borderline Event UK DH Series.
She was airlifted to a hospital in Stoke, Staffordshire, where she died having suffered a head injury.
Mr Garrett told the Wrexham Leader newspaper his daughter had been planning to move into her first house with her boyfriend, Peter Walton.
Mr Garrett said: "Our daughter Judith was the most beautiful, loving daughter any parent could have wished for.
'Horrific'
"She was very beautiful and loved, not only by her family but also everyone who knew her.
"She leaves a huge void in our lives that can never be filled. She had a very bright future ahead of her."
Mr Garrett said he was extremely grateful to Wales Air Ambulance and the staff at the University Hospital of North Staffordshire for the "care, kindness and compassion they showed to Judith and ourselves at what has been a horrific time for us".
Ms Garrett also leaves her mother, Lorna, and sister, Jane.
British Cycling is conducting an investigation into the incident.