Op Pallial: Dead paedophile faced 38 new abuse charges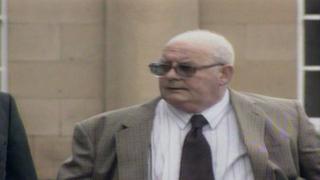 Detectives investigating historical abuse at north Wales children's homes say a paedophile head teacher who died in prison would have faced fresh charges.
Officers say Peter Howarth would have faced 38 claims of abuse from 19 people.
However, Howarth died in 1997 while in jail for sex assaults on boys.
The new claims came to light as part of the National Crime Agency (NCA)'s Operation Pallial investigation.
All allegations received - even in cases where potential offenders have since died - are being examined, said the NCA.
The Howarth investigation is the first of these to be completed and the files passed to the Crown Prosecution Service (CPS).
Detectives said the sexual abuse offences were all against boys aged between 11 and 12, and between 14 and 16-years-old at the time they were alleged to have taken placed.
Howarth worked at Bryn Estyn home in Wrexham between November 1973 and July 1984. He also taught at the Axwell Park School in Gateshead in the 1960s and 1970s.
He was jailed in 1994 for what was described as "dreadful and disgusting" sexual attacks on boys.
He died at HMP Wakefield Prison in April 1997.
Detectives from Operation Pallial said they have spoken to all those who lodged complaints about him, and that their inquiries in this case are now complete.
A further seven people have yet to be updated because they have made further allegations against live suspects and these inquiries may result in court appearances.
A total of 21 people have now been arrested or interviewed under caution in the Operation Pallial investigation.
Twelve people have been charged, with the remainder on bail.