Film recounts Abergele rail disaster in 1868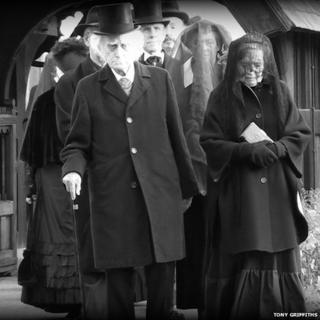 A film about a Victorian rail disaster in north Wales has been made by a Denbighshire photographer and history buff.
Tony Griffiths and wife Barbara, from Denbigh, gathered friends to help them tell the story of the Abergele rail crash in Conwy which claimed 33 lives.
They used eyewitness accounts to write the script recounting the 1868 tragedy.
Runaway carriage trucks carrying barrels of paraffin collided with the Holyhead Irish mail train and exploded.
It happened on the rail line between Abergele and Llanddulas on 20 August 1868.
The film is being shown at Denbigh Town Hall on Thursday evening.
The town is home to the monument of Dr Evan Pierce, who was the coroner presideding over the inquests into the deaths.
'Beg and borrow'
One of the scenes restages a funeral procession at St Michael's Church where a memorial to the victims still stands.
Mr Griffiths had originally intended creating a short film to show at his local camera club to tell the story of the tragedy.
But the husband and wife project has since become a 43-minute epic, involving trips to museums and archives around the country for research and commissioning artists to depict scenes that could not be recreated for real.
The couple and their friends also had to "beg and borrow" while making authentic-looking costumes because, unlike the Hollywood movies, they had did not have a film budget.