Glyndwr Uni finance concern over foreign student freeze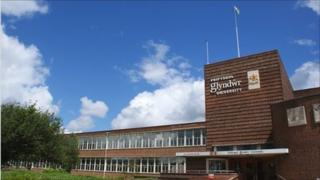 Glyndwr University has contacted the Charity Commission about the financial impact of the continuing suspension of its licence to teach non-EU students, BBC Wales has learned.
The Wrexham-based university was stopped from recruiting overseas students in June after a Home Office investigation into alleged visa fraud.
Roughly 2,104 of Glyndwr's 8,400 students are from outside the EU.
Glyndwr said they were in continued dialogue with the commission.
Deficit
According to reports, fees paid by non-EU overseas students account for around a third of the institution's revenue.
The institution, which like most universities is a charity, has filed a serious incident report with the Charity Commission.
A spokesman for the commission said: "Filing a serious incident report is important because it ensures we can provide assistance at the earliest opportunity, targeting our resources and helping to put charities back on a secure footing where necessary."
In 2013-14, 1,280 serious incidents were reported by charities to the commission, but it is not clear how many universities have raised similar concerns about their finances.
Glyndwr recorded a deficit of almost £4m in 2012-13, nearly a tenth of its turnover.
In March this year, it emerged the university was considering plans to make nearly one in 10 of its staff redundant.
The revelation triggered a vote of no confidence in vice-chancellor Michael Scott by the University and College Union, which held him "directly responsible for the current financial circumstances".
Fraud
Earlier this year, the Home Office suspended English language tests run by a major provider, ETS, which are needed to get a UK student visa, following a BBC Panorama investigation into systematic fraud in the system.
Officers uncovered evidence of "serious concern" at some campuses, and the UK government downgraded Glyndwr University from its status as a "highly-trusted sponsor" of student visas.
The university said its trustees had filed a report in compliance with their duties as charity trustees.
In a statement, they said: "The trustees are in continued dialogue with the commission, and other key stakeholders, to keep them appraised of matters and the steps being taken by the university to address the impact caused by the continued suspension of the Highly Trusted Status licence."
A spokesperson for the Higher Education Funding Council for Wales said they were in ongoing dialogue with Glyndŵr University over its financial recovery plan, adding: "We will also be kept apprised of the Charity Commission's enquiries, as appropriate."