Holywell sculpture and history trail unveiled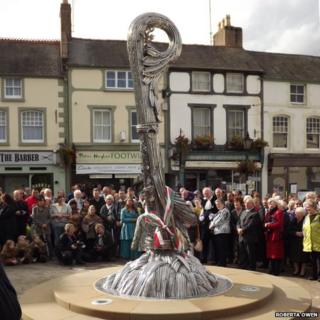 A sculpture and heritage trail have been unveiled in a £70,000 project to encourage more visitors to a Flintshire town.
The idea is to provide a better link so people visiting Holywell's historic St Winefride's Well will make the trek up the hill to the town centre.
But some have said money could have been spent in other ways.
The mayor of Holywell told the Leader newspaper he considered resigning over the "negativity" earlier this month.
Coun Ted Palmer called on critics to have a more positive attitude towards the town.
The idea for the trail and sculpture came from the Holywell Partnership, a co-operative group which includes retired teacher Roberta Owen.
"We felt it was time to put Holywell firmly on the tourist map of Wales," she said.
The money has come from several sources with rural regeneration agency Cadwyn Clwyd contributing £50,000 through the European Agricultural Fund for Rural Development (EAFRD) and £5,000 from Flintshire council's Streetscape improvements programme.
Metal sculptor Mike Johnson calls his latest work The Miracle. It is a 4m (13ft) stainless steel and bronze sculpture which is based on the legend of St Winefride.
Legend has it that her head was cut off by a jilted suitor, but it was replaced and she came back to life thanks to her uncle, St Beuno.
Water is said to have sprang from the place where her head fell.
The town of Holywell takes its name from the holy well, known as the Lourdes of Wales, which continues to be a place of pilgrimage.