Boys 'systematically beaten' at children's home, John Allen trial told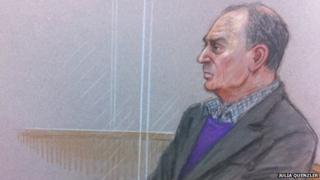 A former resident of a Wrexham children's home says it was ruled with an "iron fist" and there were regular physical beatings.
He was giving evidence in the trial of John Allen, who owned and ran the Bryn Alyn Community, a group of homes near Wrexham.
The witness said he had been sexually abused at the home from when he was 11 or 12 until he was 14.
Mr Allen of Needham Market, Suffolk, denies 40 counts of sexual abuse.
The jury has been told the allegations involve 19 boys and one girl, the youngest aged seven and the oldest aged 15.
The prosecution has claimed that Mr Allen was a "regular and formidable presence" at the homes from the 1960s to the 1990s.
Giving evidence to the trial on Monday, a man who said he had been one of the victims told that court that young residents believed the 73-year-old defendant was a commando who had been in the SAS.
He said Mr Allen had a key to every room and he would routinely abuse him in a dormitory.
'Systematic'
He said: "He never said a word, it was systematic."
The witness was the second complainant to give evidence at Mold Crown Court.
He said the abuse "would happen at least once a fortnight" and he was treated as a "sex toy".
He said Allen ruled with an "iron fist".
Cross-examined by John McDermott QC, he agreed he told the police in 1993 and in 1994 that Mr Allen had not sexually abused him.
Speaking via a live television link, he said that was not the truth, but at that stage he did not have enough courage to come forward.
He said he now finally felt strong enough to say what had happened to him at Bryn Alyn.
Asked why he had not told his social worker at the time, he said he did not recall seeing a social worker and if he had, he would have been too scared to say anything.
Mr McDermott said that his allegations were not true and that "he had never been abused by John Allen".
"It is one hundred per cent true, I certainly was," the witness said.
The trial continues.