Denbighshire council's £17m budget cuts 'unavoidable'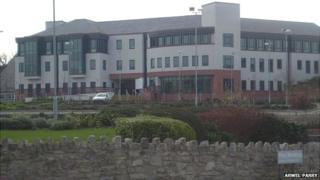 "Unavoidable" cuts in public services are expected in Denbighshire as the authority looks to slash £17m from its budgets over the next two years.
Care homes could be closed, bus routes reduced and public toilets shut as part of the latest round of proposals.
The council has launched a consultation, saying it wants residents to have their say before the axe falls.
Council leader Hugh Evans says £20m in savings have already been made "but the time has now come for us to make cuts".
Councillors have already agreed to increase burial charges, reducing street cleaning activity and to charge residents £24 for collecting their garden waste.
'Least-worst options'
The next wave of cuts could include withdrawing funding to organisations like Prestatyn's Scala Cinema and Arts Centre (£41,000) and Ruthin Craft Centre (£30,000), as well as cutting £166,000 on providing bus routes, and closing a quarter of the county's public toilets to save up to £60,000.
The council is also considering the future of council-run care homes and adult services which could save it £700,000.
Councillor Evans said "cuts are unavoidable", adding: "They are the least-worst options that the council has to consider as it sets its budget for the next financial year."
The proposals will be discussed by councillors after the public consultation closes on 28 November.