Prestatyn's Scala cinema and arts centre faces closure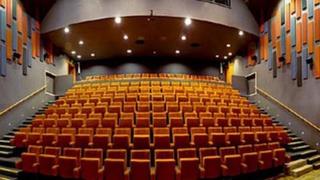 A cinema and arts centre in Denbighshire could be forced to shut unless it can resolve funding problems.
The Scala in Prestatyn has to pay £20,000 to Denbighshire council by tomorrow to cover staff wages.
Officials will meet tonight to discuss the funding problems. A fundraising campaign has also been launched to try to secure the venue's long-term future.
The Scala was given a £3.5m facelift when it opened its doors again after closing in 2000.
General manager Chris Bond said takings had been hit as the summer weather kept people away.
The situation was made worse because a projector had also needed to be fixed, costing over £5,000.
In March, three full-time members of staff were made redundant to cut costs.
Mr Bond had a meeting with Denbighshire council finance officials last week to discuss the centre's money worries which, he said, have dogged the community-run venue since it reopened.
The authority is also proposing to withdraw next's year's annual funding of £40,000 to the centre as it copes with its own budget cuts.
But the venue is facing more immediate financial problems as the council said it has asked the trust board to provide a plan to show how its current financial situation is only temporary and that its future can be assured.
The spokesperson explained that the council has a credit agreement with the Scala which allows it to be two months in arrears in repaying money covering staff wages.
However, they were notified November's payment would be late, putting it in breach of the terms of a credit agreement.
The spokesperson added that the council gave the Scala a loan of £86,000 in 2010 but it has still to set a repayment date.