Northop crematorium plans rejected by Flintshire councillors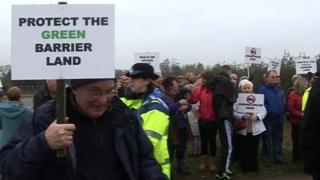 Plans for a crematorium in Flintshire have been rejected by councillors.
A funeral director submitted the proposals for Northop as the county does not have its own crematorium.
About 100 people, including opponents, gathered at the planned site to make their views known before attending the county hall meeting in Mold.
A report said the council does not dispute a need for a crematorium. But councillors voted against the proposals on a "green barrier" of land.
A separate application for a crematorium on land near Northop has been submitted by another firm to Flintshire council.