Flintshire street receives more than 700 parking tickets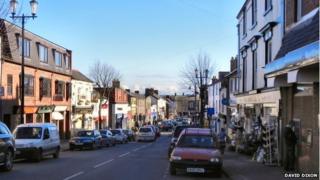 People parking on High Street in Mold have received 736 parking fines since October 2013, when the council took over responsibility for tickets.
Chris Stevenson works on the street and says it is "bad for business...people are frightened to park".
More than 6,000 parking tickets have been handed out by Flintshire council in the last year.
Steve Jones, the council's Chief Officer for Transportation, says tickets "benefit everyone".
He added: "Civil Parking Enforcement requires all motorists to park their vehicles correctly, with due consideration for other road users."
Upside down sticker
Flintshire council took over responsibility from the police for issuing parking tickets in October last year.
Since then the council has made £184,286.44 from parking tickets, which they said is used to offset parking costs.
Almost two thirds of the county's tickets went to Mold, population of around 9,500, with 4,070 handed out.
Flint had 653 tickets issued, followed by 521 Buckley and 365 in Shotton.
Mr Stevenson, who works at a carpet shop, says he has seen "many more" wardens this year and recently received a parking ticket because his disabled sticker was upside down.
But High Street pet shop owner Cerys Roberts thinks more parking controls have helped disabled people and created "more delivery space".
Mr Jones said: "(Parking tickets) benefit everyone by reducing congestion and improving the safety of all road users, including pedestrians."