Children's homes boss John Allen 'never sole supervisor'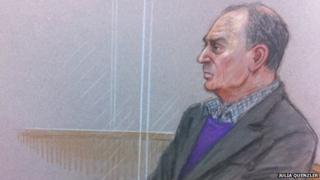 A north Wales children's homes boss accused of sexually abusing youngsters said he was never the only person supervising boys at night.
John Allen, 73, of Needham Market, Suffolk, denies 40 counts of sexual abuse against 19 boys and one girl in the late 1960s up to the early 1990s.
He told Mold Crown Court on Thursday he did not lavish the boys with gifts.
Mr Allen, who said he was happily married and bisexual, only gave presents at Christmas and birthdays.
The former hotelier and pop band manager, whose homes were collectively known as the Bryn Alyn Community, told his barrister John McDermott QC there was a night watchman who did not have direct contact with the children but would alert him if there was a problem.
'Never sole supervisor'
"If you wanted to roam the boys' area... it was available to you?" Mr McDermott asked.
"Yes," replied Mr Allen, but added he would go into the dormitories at night only if he needed to.
His room, which he shared with partner Norma, was separated from the dormitories by a door, and he denied ever having been the sole supervisor in the home at night.
Mr Allen was asked if he went into the sports changing rooms and he said only to offer encouragement about the games and "never" because of a sexual interest in boys.
He went on to say he had "seen a lot of naked boys over the years in my work".
'Rewards for abuse'
The jury was told he did not buy motorbikes and other valuable items as rewards for boys because they were being abused by him.
Mr Allen said boys over 16 who were in full time employment and were competent would be given mopeds to travel to work - and this would only happen, he said, after discussions with social services and sometimes the parents.
Other gifts, he said, such as stereos, would have been given at Christmas or birthdays and funded by the local authorities and Bryn Alyn Community.
Mr Allen also denied having had a drinking problem and said he only drank beer socially.
The court has previously heard from a former resident of one of the homes who claimed it was run with an "iron fist" and there were regular physical beatings.
The trial continues.