Tenerife beheading: Shortcomings in Glan Clwyd hospital care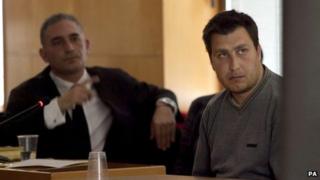 There were "clear shortcomings" in the care a man with paranoid schizophrenia received in hospital months before he beheaded a woman in Tenerife.
Deyan Deyanov murdered Jennifer Mills-Westley, from Norwich, seven months after leaving a north Wales hospital.
A Healthcare Inspectorate Wales report said without the shortcomings in his care, Deyanov, 22, might not have murdered Mrs Mills-Westley, 60.
The victim's family said the "failings are far worse than we imagined".
Deyanov was treated at Glan Clwyd hospital but was released after "inappropriate diagnosis and unsatisfactory aftercare".
Doctors believed he was feigning mental illness to gain accommodation, the report found.
A statement from Mrs Mills-Westley's daughters Samantha and Sarah Mills-Westley, who had pressed for an inquiry, continued: "Had Betsi Cadwaladr recognised that Deyan Deyanov was a young man with very serious mental health problems then our mother would still be alive today.
"We cannot put into words the sense of betrayal we have experienced with our dealings with the health board.
"They have continued to prolong our pain by obstructing our pleas for truth and have become a faceless organisation hiding behind bureaucracy.
"The way they have treated our family has been appalling."
Gibberish
Mrs Mills-Westley, who had retired to the Spanish island, was attacked by Deyanov in a Chinese supermarket in the resort of Los Cristianos in May 2011.
Deyanov was sentenced to 20 years in a secure Spanish unit in February 2013.
The Bulgarian, who was homeless, had been diagnosed with acute paranoid schizophrenia. When arrested, he admitted he had used crack cocaine and LSD.
Previously, while visiting relatives in Flint, Deyanov had been treated at a psychiatric ward in Glan Clwyd hospital near Rhyl in 2010 but was released and travelled to Tenerife.
The report, commissioned by the Welsh government, said he was subject to prejudice during his treatment, with some staff believing he was speaking gibberish rather than his own language.
Healthcare Inspectorate Wales chief executive Kate Chamberlain said: "There were clear shortcomings relating to the care and treatment that was provided to [Deyanov] during his time with north Wales mental health services.
"However, we do believe that had the issues that we identify within the report been addressed, the likelihood of such an incident occurring might have been significantly reduced."
'Inappropriate diagnosis'
The report found a number of shortcomings including:
Several aspects of care were not delivered to a sufficient standard, resulting in the formation of an inappropriate diagnosis and unsatisfactory aftercare
There existed a culture where a prejudiced view of [Deyanov] was fostered by some staff
A greater level of engagement with the family of [Deyanov] would have assisted in developing a greater understanding of his background and history
[Deyanov's] diagnosis of malingering (feigning illness) which was formulated during his second admission to the Ablett Psychiatric Unit, directly affected subsequent decisions regarding the follow-up and support following discharge
It was unclear as to whether adequate steps had been taken to ensure due regard was given to his wellbeing once he was discharged
The report said that the initial diagnosis that Deyanov was pretending to be ill needed to be supported by "a substantial evidential base" which was not apparent.
That had an impact on the follow-up care and support he received following his discharge, the review found.
"The diagnosis of malingering deemed [Deyanov] as not having a serious mental illness," the report said.
"As a result he was deemed not to require secondary mental health services, a care co-ordinator, ongoing care and treatment planning or aftercare."
The report also noted that evidence of aggression from Deyanov was ignored.
On September 15, 2010 he was overheard on the ward saying: "I will have to murder someone to get deported back to Bulgaria."
'Lessons learnt'
It made 19 recommendations, including that the health board "should ensure the families of patients are involved in the planning, development and delivery of the patient's care.... to the fullest extent possible" and that it should improve record keeping.
Betsi Cadwaladr University Health Board, which runs the hospital and carried out its own internal review prior to the inquiry, apologised to Mrs Mills-Westley's family and said lessons had been learnt.
Chief executive, Professor Trevor Purt, said: "Today's report identifies clear shortcomings in the care [Deyanov] received from the health board.
"I wish to apologise on behalf of the board for these, and emphasise our commitment to continue improving the quality and safety of our mental health services over the coming months."