UPM Shotton offered help after job cuts announcement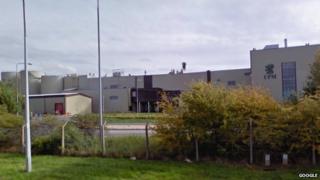 A pledge to help workers at a Flintshire paper mill where about 130 jobs are at risk has been made by Economy Minister Edwina Hart.
She met with management and union officials at UPM Shotton on Friday, a day after owners said 550 jobs were being axed across their European sites.
The paper mill on Deeside Industrial Park, which employs about 370, is to close one of its two production lines.
She has offered to set up a group to identify ways to help the company.
David Jones, chair of Deeside Enterprise Zone, has been asked to chair the group to "explore how Welsh government can support UPM".
The minister said an offer has also been made to provide on-site access to support organisations such as Jobcentre Plus, careers organisations, training groups and other agencies that can offer help and advice to affected staff.
"This is obviously disappointing news and will be a difficult time for those affected," she said.
UPM said it is planning to permanently reduce its paper production capacity by 800,000 tonnes across Europe.
UPM Shotton manufactures paper for daily and weekly newspapers with an annual capacity of 490,000 tonnes.