St Asaph flood plan feedback call from Natural Resources Wales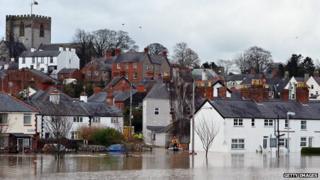 People who live in a city devastated by floods two years ago are being asked to help decide how best to stop it happening again.
Margaret Hughes, 91, died during the flooding in St Asaph, Denbighshire, and 400 homes were overrun by the water.
Natural Resources Wales (NRW) has been considering a number of proposals to enhance flood defences.
A public drop-in session will be held next month for people to give feedback on its preferred option.
The six options considered include raising embankments in St Asaph or lowering them downriver.
'Climate changes'
The plans also include a number of innovative projects upstream to manage flood risk naturally.
Measures such as tree planting, de-compacting soil and managing land drainage can help to hold some of the floodwater back and make the area more resilient to climate change in the future.
Tim Jones, executive director of operations for north and mid Wales for NRW, said: "Although the type of flooding we saw in 2012 is rare, we know that as our climate changes we are likely to see more intense heavy rainfall in the future, and more flooding.
"We can't always prevent flooding from happening, but in St Asaph, we believe we have a good proposal to significantly reduce its likelihood of happening."
People can see the proposals for the preferred option and give feedback on Wednesday, 10 December at the Oriel Hotel in St Asaph.
Concrete foundation
Following the drop-in session NRW said it will approach the Welsh government for funding in spring next year.
Work on the scheme could then start in spring 2016.
In the meantime, short-term measures to reduce flood risk remain in place on the River Elwy.
This includes raised embankments near the Spring Gardens bridge, and a new concrete foundation which allows temporary flood barriers to be installed along a 150m stretch of the river.
Mrs Hughes' inquest last month heard the vulnerable pensioner drowned in her home after she refused to leave despite flood warnings.