Homes plan for Denbigh's North Wales Hospital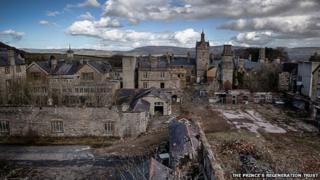 New plans have been drawn up to transform a derelict Victorian hospital into a major housing development.
The Prince's Regeneration Trust is to submit plans for Denbigh's North Wales Hospital to planners for approval.
This year Denbighshire council agreed to compulsory purchase the Grade ll* listed psychiatric hospital from its previous owner as its condition has deteriorated since its closure in 1995.
Permission for housing was secured by the former owner but work never began.
The trust's £11m plans show a phased development of housing across the sprawling site, starting with the landmark main building.
"To see it in it's present state is heartbreaking," said Denbigh councillor Ray Bartley, a former psychiatric nurse who worked at the hospital.
"I'm very impressed with all the plans; anything that can improve the site is more than welcome," he told the Daily Post.