Plan to demolish Rhyl's arson-hit Grange Hotel approved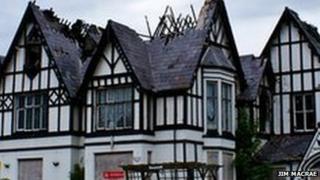 A derelict hotel damaged by fire in an arson attack six years ago is to be demolished to make way for new apartments.
The Grange Hotel on Rhyl's seafront partially collapsed after arsonists set fire to the grade II listed building in March 2008.
The historic landmark, which dates from 1840, has been empty ever since, and has been vandalised.
The town council and some conservation groups have objected to the demolition.
Part of the building on the East Parade collapsed when it was ravaged by fire in 2008. Further damage was caused in an arson attack two years ago.
The building was recently listed as one of Denbighshire's top 20 eyesores.
'Heritage'
Denbighshire councillors have given the go-head for the derelict site to be redeveloped with the construction of 44 apartments in a six-storey block.
Rhyl Town Council has opposed the scheme, arguing that so many flats would "represent an over intensification of the site" with not enough parking space.
The Victorian Society also lodged objections, claiming it "would result in the total loss of a designated heritage asset".
In a submission to the county council, the society said the case for demolition had not been made out and the council should consider the merits of retaining and restoring "a nationally important building".
'Salvation'
The Council for British Archaeology protested that the demolition would mean "losing evidence of Rhyl's Victorian past as a fashionable seaside resort".
But in a report to councillors, planning officials said: "The reality here, unfortunately, is that what remains of a once significant building in the town's history is a sadly derelict fragment which blights this section of the seafront, with little obvious future potential for a viable use or salvation."
The demolition is still subject to authorisation by Cadw, the Welsh government's historic environment service.