Jobs boost hope for Deeside enterprise zone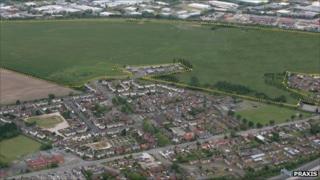 Deeside enterprise zone could see more investment and new jobs over the next year, a senior councillor has said.
Staff at Flintshire council are currently fielding enquiries from 24 potential investors.
About 830 jobs were created when over half of the 36 enquiries came to fruition in the year to March 2014, the authority said.
A snack manufacturer is creating 100 jobs when production begins on Deeside industrial estate early next year.
Calbee Inc - Japan's largest producer of savoury snacks - announced in October it is opening a new factory on the industrial estate.
Councillor Derek Butler, Flintshire's cabinet member for economic development, said the size of development land next to Deeside industrial estate, known as the Airfields, offered huge opportunity for the area.
"We flatlined over the last few years and now we are seeing things improve," he said.
The 250 acre (101 hectare) Airfields site has been earmarked for a major industrial, commercial and housing development with infrastructure work under way.
'Centre of excellence'
"It builds on and reinforces what we are [in Flintshire] - a big manufacturing centre," said Mr Butler.
Flintshire employs 29.8% people in the manufacturing sector compared with 11.8% in Wales and 8.5% in the UK, according to data published on behalf of the UK government.
The Welsh government announced in 2011 it wanted the industrial zone to focus on advanced manufacturing.
Engineering, defence and aerospace firm Raytheon is creating 50 jobs at its Broughton factory, which is also within the Deeside enterprise zone, with a £1m investment in a design centre of excellence.
Flintshire council said it recorded 258 job losses in the industrial zone between April 2013-14.
And in November, paper manufacturer UPM announced plans to close one of two machines at its plant on Deeside industrial park which could affect 130 jobs.
It is expected to complete a consultation with staff in the new year.