Zachary Davies remanded on Tesco store attempted murder charge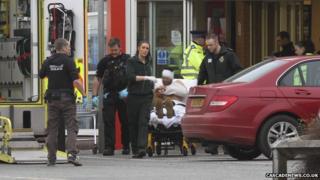 A 25-year-old man has been remanded in custody charged with attempted murder at a Tesco supermarket in Mold, Flintshire.
Zachary Peter Davies, from Mold, appeared before Wrexham Magistrates' Court on Friday.
He was remanded in custody to appear at Mold Crown Court on 19 January.
Sarandev Brahambra, 24, from Yorkshire, suffered life-changing injuries while shopping at the store on Wednesday.
Witnesses reported seeing a white man chasing an Asian man through the store with a knife and hammer.
Mr Brahambra remains in hospital having suffered wounds to his hand, back and head.
He and his family are being supported by specialist family liaison officers.