Lessons learned for Wrexham 'super prison', MPs told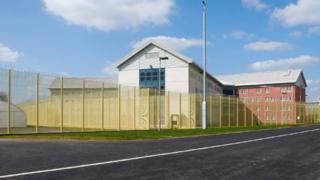 Lessons will be learned from other prisons before a new one is built in Wrexham, says a senior councillor.
Hugh Jones made the comments while addressing MPs taking evidence about a new "super prison" set to open in 2017.
A former prison governor said there had been "teething troubles" when other prisons had been filled after opening.
Kevin Lockyer said a "significant proportion of the prisoners that you move will know more about prisons than the staff supervising them".
He was referring to the fact that some of the staff will likely be new in their posts at the prison being built on Wrexham Industrial Estate.
Councillor Jones said: "One of the important things is that we learn the lessons of new developments," he said, highlighting the "good work" at HMP Parc in Bridgend in its Invisible Walls project to help current and released offenders of all ages, as well as their families.
The pair gave evidence to the Welsh Affairs Committee as part of its inquiry into prisons in Wales and the treatment of Welsh offenders.
Mr Lockyer said prisoner resettlement would be better if prisoners were close to their own communities rather than dispersed through the prison system.
The MPs heard that there are 900 prisoners from north Wales in prisons around the UK.
Wrexham's £250m prison will hold 2,000 inmates, making it the largest prison in the UK.