Missing Trevaline Evans: New plea to solve 25-year mystery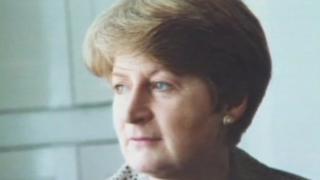 Shopkeeper Trevaline Evans went missing in June 1990 after putting a note on her antiques shop door saying "back in two minutes".
Now, a local politician suggests a renewed TV appeal could help North Wales Police solve the 25-year mystery over the disappearance of Mrs Evans, 52, from Llangollen.
Her husband and son have since died.
Clwyd South AM Ken Skates has written to TV programme Crimewatch saying an appeal "could yield key information".
Mrs Evans, never returned to her shop, leaving her handbag inside. Her car remained parked just 200 yards away.
Mr Skates, whose constituency office is in Llangollen, said: "A quarter of a century is an incredibly long time, and this is a most unusual case, but of course it's possible that someone still alive today knows what happened."