Christine Williams died after choking on chewing gum, inquest told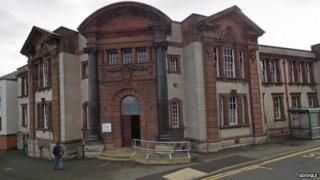 A women died after choking on chewing gum, an inquest has heard.
Christine Williams, 51, got into difficulty at her home in Ruthin, Denbighshire, in the early hours of August 30, 2014.
Her daughter, Anna Katrina Williams, said her mother ran to get a toothbrush and tried "to get something out of her throat" before falling down the stairs.
Coroner John Gittins recorded a conclusion of accidental death at the hearing in Ruthin.
Brain injury
Ms Williams was taken to hospital and doctors diagnosed severe brain damage due to lack of oxygen. She died on 4 September.
Several pieces of gum of various sizes were found in her throat. Medical notes confirmed Nicorette gum was among her medication.
Written evidence from Dr Catriona Chalmers said it "seems very likely that her cardiac arrest was caused by choking on the chewing gum".
The cause of death was given as bronchial pneumonia and hypoxic brain injury due to impacted foreign bodies in the throat.