Schoolboy shone bright laser at police helicopter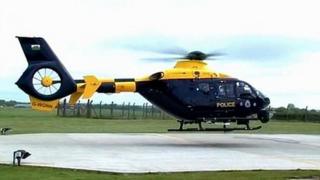 A schoolboy who shone a laser pen at a police helicopter searching for suspects has been told it could have had fatal consequences.
The aircraft was hunting for offenders in Hawarden, Deeside, when the green laser was shone on its side, Flintshire Magistrates' Court heard.
The "intense green light" flashed for two or three seconds for ten minutes.
It was tracked to a boy, 16, of Deeside, who has admitted acting in a manner likely to endanger an aircraft.
The boy, who was warned at the Mold hearing that it could have had extremely serious consequences, was placed on a nine month referral order and ordered to pay £65 costs.
Magistrates ordered the destruction of the laser pen, which was found dismantled in the boy's wardrobe.
Brian Cross, defending, said his client was extremely remorseful.