Falsely-accused sex offender 'hell' of taxi driver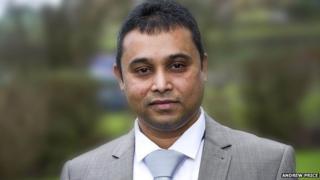 A taxi driver who was wrongly convicted of being a sex offender has spoken of his torment.
Mohammed Islam, 40, was convicted by Flintshire magistrates last October of sexually touching three young female passengers in north east Wales.
But his convictions have now been quashed after the prosecution accepted that the women were not in his taxi.
Mr Islam, of Chester, said he was relieved but was concerned the real guilty taxi driver was still at large.
He had faced being jailed after he was convicted at the magistrates' court and sent to crown court for sentencing.
The prosecution had said the taxi had stopped at a McDonalds at Sealand Road, Chester, as it took the three women - in their early 20s - to their respective homes in north east Wales in the early hours of 7 September, 2013.
A still image from the CCTV was produced which they said was Mr Islam's taxi.
But pending an appeal, he paid for his lawyers to engage an expert who was able to enhance the CCTV - and that proved it was not his taxi after all.
It was in fact a London style cab, not like his vehicle.
His lawyers also produced new cell site analyses which showed his phone was not at the scene of the crimes at the time.
After the new evidence was obtained by his solicitors, the prosecution dropped the case.
They formally did not oppose his appeal against conviction at Mold Crown Court and in a three minute hearing his convictions were quashed by the judge, Mr Recorder Greg Bull QC.
Stress and shock
Mr Islam, speaking after he was cleared, said the conviction was a terrible shock and had left him suffering from depression.
The father of two told how his eldest son had dropped out of doing his A levels because of the stress of it all and he himself had been unable to continue working.
But he said he was also concerned that the real culprit was still driving a taxi.
"I feel very sorry for those three girls," he said.
"I hope they get the person who did this."