178-year-old Bible reunited with owner's relatives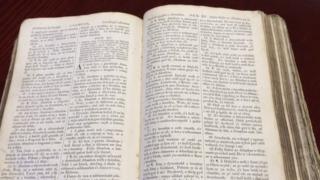 A hospice in Wrexham has reunited a centuries-old Bible with relatives of the family who owned it.
The 1837 Welsh Bible contains family inscriptions and shows it was given to different generations over the years.
It was donated in a bag of belongings to a Nightingale House Hospice charity shop in Wrexham.
But following publicity, relatives of a man named John Parry in Llanfihangel, Montgomeryshire, realised it had belonged to him.
After reading the story, Brian Parry said: "My wife heard it on the news, she let me know that the name of the farm was on the television and I asked her why and it's unbelievable really.
"It's a nice feeling I will look after it and treasure it, just another part of a long family history."