Darren Jeffreys jailed for life for Karen Catherall murder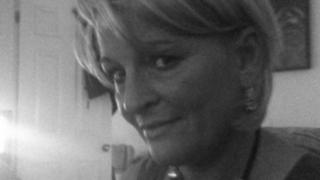 A 47-year-old man has been jailed for life for murdering a Flintshire woman he met on a dating website.
Mother-of-two Karen Catherall, 45, was found strangled and with head injuries at her home at Gwernaffield, near Mold, on 14 September, 2014.
Last December, Darren Jeffreys, from Mold, admitted killing his girlfriend.
Sentencing at Mold Crown Court, Mr Justice Wyn Williams said it was "senseless violence fuelled by alcohol and your possessive jealous nature".
Jeffreys must serve a minimum of 17-and-a-half years.
The court heard Ms Catherall and Jeffreys began a relationship a few months after meeting on the Plenty of Fish website and had been seeing each other for a few weeks.
The prosecution said Ms Catherall had spent the morning of 13 September with her former sister-in-law at the Wetherspoons pub in Mold where she drank cider and they ate breakfast.
She told the other woman Jeffreys was a "nice man, but possessive".
The court heard she was a "robust woman" and "did not seem afraid of him".
She continued drinking with her nephew and was joined by Jeffreys, and when they moved to another pub she told her nephew to be careful what he said because Jeffreys was a "jealous man".
Her nephew took her home and left her around 19:00 BST "in good spirits".
The court heard Jeffreys arrived shortly afterwards and subjected her to a "ferocious, sustained, and in the end deadly attack" which caused substantial internal and external injuries probably caused by very hard punches.
There was evidence he tried to cover what he had done but eventually rang the emergency services at 02:35 BST.
Mr Justice Wyn Williams said: "The prosecution say that you literally battered her to death.
"In my judgment that is an appropriate description for what happened that night."
Charges of assaulting four ex-partners were left on file. All described him as jealous, possessive and volatile.
In a victim impact statement, Ms Catherall's mother said her daughter "always had time for people, always had a smile".
In a statement made outside court on behalf of the family, Det Insp Mark Hughes said of Jeffreys: "We hope he is haunted by his actions for the rest of his life.
"He took away a mother from her two sons and all our lives have been affected by his selfish and evil actions."