Tributes to 'unsung hero' Sue Sayer who has died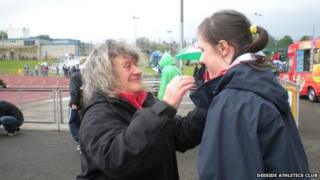 Tributes have been paid to a leading figure in Welsh athletics who has died suddenly.
Sue Sayer, the former president of Welsh Athletics, was taken ill near Craven Arms, Shropshire, and pulled into a lay-by.
A passer-by called the police but the 68-year-old had already died.
Ms Sayer, was also Welsh Athletics' secretary of the track and field committee, and chairwoman of Deeside Athletics Club.
Matt Newman, chief executive officer of Welsh Athletics, said: "Sue Sayer was a true unsung hero of athletics in Wales.
"Sue showed an unbelievable commitment and dedication to her club, the north Wales region and to athletics at a national and international level.
"Her contribution was immense and she will be missed by everyone within the wider athletics family."