Coedpoeth and Brymbo contaminated land bill 'relief' for villagers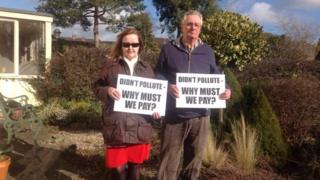 Wrexham villagers will not have to pick up the bill to clean-up lead contamination found in their gardens dating back 200 years, says a minister.
A total of 18 households from Coedpoeth and Brymbo, who live on the sites of former lead smelting works, faced having to part-fund the clean-up.
But Natural Resources Minister Carl Sargeant visited residents on Friday and put their minds at ease.
Householder Julie Hinchliffe said some people had faced bills of £10,000.
"This has been a difficult period for the residents and a great burden has been lifted from our shoulders," she said.
Mr Sargeant said: "These costs would ordinarily fall at the door of the polluter or, failing that, the current land owner.
"But, given the circumstances, we are keen for this to be resolved for the good of all parties concerned.
"We have approached Wrexham County Borough Council offering to contribute to the costs in the interests of the residents."