Sealand migrant workers moved to temporary housing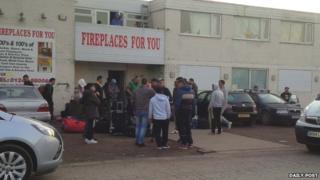 Migrant workers are being moved to temporary housing after they were found to be living in "grossly unsuitable and unsafe premises" in Flintshire.
About 40 spent a second night at a reception centre after Flintshire council officials shut down their housing in Sealand on Sunday.
They are due to be moved to short term housing on Tuesday.
About 50 migrant workers were found temporary housing on Monday. All people involved are legal migrant workers.
Council chief executive Colin Everett said they have been able to continue working throughout the disruption.
"The council is continuing to work with the migrant workers to help them plan for the future, either in the local area, elsewhere in the UK or their repatriation," he said.
"None of the temporary rehousing options being offered to those who wish to remain locally involve allocating council and other social housing properties for which there are waiting lists.
"Prohibition orders have been served on the premises in Sealand and prosecution action against the owners is under consideration."
North Wales Police, health officials and the British Red Cross were involved in the operation on Sunday.