Traffic chaos on A483 and A55 Chester Posthouse roundabout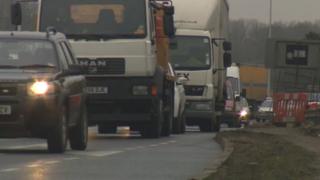 Big tailbacks on the A483 Wrexham bypass and A55 near Chester were caused by temporary lights stuck on red.
Months of roadworks around the A55 Posthouse roundabout have been causing frustration for motorists.
The Highways Agency is spending £6m re-modelling the road layout. Work was due to finish this month but has been put back until May.
Motorists took to social media to report delays of over an hour.
A spokesperson for the Highways Agency apologised for the problem, adding: "The temporary traffic lights, which are now working again, are due to be removed by the end of the week when the new permanent traffic lights at the junction will be switched on."