Injured fox cub rescued from Cardiff streets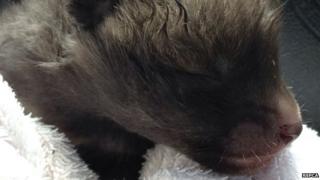 A tiny fox cub has been rescued after being found on the streets of Cardiff.
Members of the public spotted the cub on Samuels Crescent in Whitchurch on Monday but did not know what it was.
After initially thinking it was a puppy they realised its legs were too short and contacted the RSPCA.
The cub was taken to a veterinary surgery and is now being looked after at the West Hatch Wildlife Centre in Taunton, Somerset.
Animal welfare officer Sian Burton said: "He was freezing, crying and skin had come off his tail.
"He still had his eyes closed so must be under 10 days old."
Staff at the wildlife centre will now keep a close eye on him and will be feeding him a special formula to replace his mother's milk.
Apart from his tail injuries he appears to be healthy and weighs 330 grams.