Woman seriously injured after 20ft fall at Offa's Dyke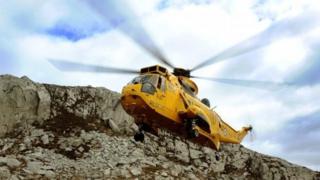 A woman was airlifted to hospital with serious injuries after falling 20ft (6.09m) down a sheer drop in north Wales.
The climber, who is her 30s, fell at Offa's Dyke near Llangollen, Denbighshire, on Sunday.
An RAF rescue helicopter from Valley on Anglesey airlifted her to a major trauma centre at a hospital in Stoke-on-Trent.
North East Wales Search and Rescue team assisted the rescue.