Campaigners delay decision on future maternity care at Glan Clwyd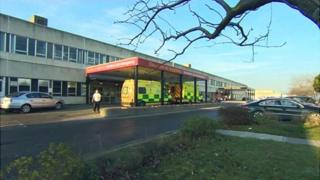 Campaigners against the downgrading of maternity services at a north Wales hospital have applied for a judicial review of the health board's proposals.
Health officials were expected to go ahead with plans to end consultant-led services at Glan Clwyd, in Bodelwyddan, Denbighshire, at a meeting next week.
However, because of the review services will remain as they are for at least a month so legal advice can be sought.
Campaigner Marsha Davies said it was "the biggest victory to date".
She said campaigners had been able to apply for legal aid through one of their group, a high risk pregnant mother-to-be who met the criteria.
Ms Davies, from Rhyl, said: "Hundreds of mums around here due in the next four weeks are so relieved today because they now know they can have their baby near their home in their local hospital."
She said she hoped the review would be held in the next couple of weeks.
"We are feeling hopeful. We hope now that Betsi will come up with an alternative plan," she added.
Temporary changes
Betsi Cadwaladr health board said: "The board had intended holding an extraordinary meeting on Monday 20th April, to receive a paper from the Implementation Group that has been working on proposals for temporary changes to obstetric, gynaecology, neonatal and inpatient breast surgery services.
"However, late on Friday the health board received a letter informing that a judicial review is being sought in relation to these matters.
"In the light of this a decision has been made to defer the board meeting for a month to enable legal advice to be sought and actioned."