Welsh sniffer dogs to help catch smugglers in Tanzania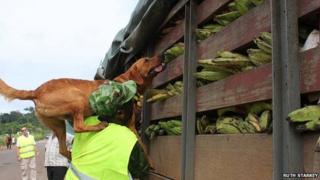 Sniffer dogs from north Wales are being flown to the east African country of Tanzania to help catch smugglers.
The dogs will help authorities detect ivory, weapons, ammunition and animal products including elephant and buffalo meat.
They will be placed under the care of Tanzania National Parks.
The dogs belong to Flintshire-based Wagtail UK, which was awarded the contract, along with Conservation Dogs, by the Wildlife Conservation Society.