Caravan home demolition woman, 71, taken from site ill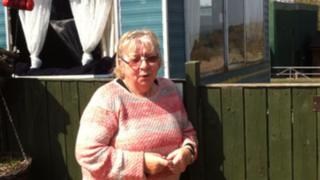 A woman, 71, trying to save her caravan home after a planning row lasting years, has been taken ill on the day it was due to be removed.
Flintshire council was due to remove Beryl Larkin's caravan from a field in Treuddyn, near Mold, because she does not have planning permission.
She has lived there for 19 years despite several failed planning bids.
As contractors arrived, Mrs Larkin complained of chest pains and was taken away by ambulance.
She was taken to another address for a check-up while the council withdrew from the site.
Earlier in the day, protesters had blocked access to the field ahead of the council contractors arriving to remove or demolish the caravan.
But after she was taken ill, they left the site.
Mrs Larkin does not have planning permission for the caravan and has been prosecuted twice for failing to comply with an enforcement notice which dates back to January 2001.
She submitted another planning application earlier this week but planners said it was invalid.
The authority said Mrs Larkin was made aware in October 2013 of the action it planned to take and any legal challenge should have been brought within three months of that date.
Its chief planning officer, Andrew Farrow, said: "There have been repeated attempts over many years to bring this matter to a conclusion in a reasonable and sensitive way, but regrettably the council's efforts have been constantly rebuffed by Mrs Larkin."
Commenting on Mrs Larkins' ill-health, he added that "it was appropriate" for council officials to withdraw from the site Wednesday.
A Welsh Ambulance Service spokesman said it received a call to the address at 09:26 BST, because a woman was feeling unwell.
The woman was taken to another address for a precautionary check-up.