Fire crews dampening down Saltney warehouse blaze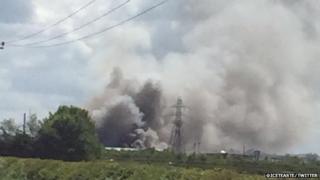 Fire crews are still at the scene of a blaze which broke out at a storage warehouse in Flintshire.
Ten firefighters are continuing to dampen down the flames and are checking for hot spots at a building housing recycled waste and carpets in Saltney.
It started shortly after 11:30 BST on Wednesday and crews from six fire stations were sent to the scene at the height of the fire.
Workers at 11 industrial units had to be evacuated.