Migrants building owner John Russell Brown admits charges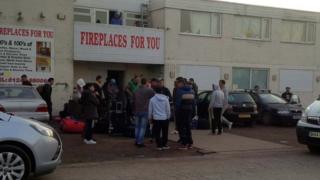 A Flintshire building where 107 migrants were found crowded into was at "imminent risk of fire", a court heard.
John Russell Brown and his company Hyperion Investments admitted 12 charges relating to the condition of the property and the danger and risk to health of the occupants in it.
The migrants were found during a raid on Deeside Lane, Sealand - one of the largest of its kind in the country.
He will be sentenced on 14 January.
Wrexham magistrates heard how tenants, including an eight-year-old child, were crowded into small rooms, some beds were propped up on bricks.
There was no heating, hot water, there were washing lines hanging in corridors, and poor lighting throughout.
They had to share six toilets and six showers, and there were just three kitchens.
Magistrates heard how Brown was taking £50 to £55 a week in rent from each worker was making about £23,000 a month from the rental income.
The prosecution said it will be seeking the full cost of the investigation, remedial action and court costs, totalling £53,000.