St Asaph Bishop designs Christmas coin for Royal Mint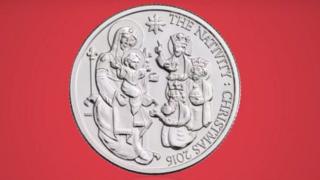 An official Christmas coin has been designed by the Bishop of St Asaph for The Royal Mint.
The £20 silver coin shows the nativity story and features the wise men visiting Jesus shortly after his birth.
It is the second coin Rt Rev Gregory Cameron has designed, as he created the artwork for the final commemorative round £1 coin back in May.
He said the nativity was "as much a story for all times as an historic event".
Anne Jessopp, director of commemorative coin for The Royal Mint, added: "Coins have had a place in Christmas customs for centuries: think of families stirring a sixpence into the Christmas pudding, or the placing of coins in the toes of Christmas stockings."
A total of 30,000 of the coins have been struck by The Royal Mint, which is based in Llantrisant, Rhondda Cynon Taff.