Wrexham bus routes operate despite GHA Coaches collapse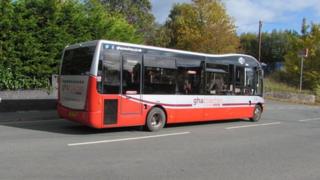 Bus services will still run in Wrexham after the collapse of Ruabon-based GHA Coaches, the council has said.
All but one of the routes affected by the Traffic Commissioner for Wales' decision to revoke the directors' licence will operate.
An emergency tender process has secured commercial operators.
The four routes which have been financially supported by the council will operate from 19 December subject to the traffic commissioner's approval.
Services from Ceiriog Valley to Llangollen and Wrexham to Whitchurch will operate according to the current timetable, while services from Wrexham to Moss and Lodge and Burton and Trevalyn will run on Wednesday, Friday, and Saturday.
The Wrexham to Ruabon/Pont Adam route will cease, but the council said it remains "committed to finding an operator for this service as soon as possible".