Ken Skates wants PSA Vauxhall takeover meeting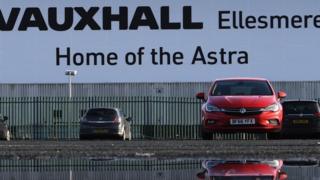 Economy Secretary Ken Skates has offered to meet Peugeot and Citroen bosses over the takeover of Vauxhall.
It is estimated that around 400 of the 2,200 workers at Vauxhall's plant in Ellesmere Port in Cheshire are from north east Wales.
About a dozen Welsh firms also supply the factory.
In a letter to PSA Group's chairman, Mr Skates said its importance to the sector and the north Wales economy "cannot be underestimated".
He said the Welsh Government had developed a close working relationship with Vauxhall GM.
In the letter to Carlos Tavares, Mr Skates added: "This is a challenging time for the car manufacturing industry as we begin the process of leaving the European Union and that is why I want to work with you, the UK government, recognised trades unions and skills providers to protect jobs at the site and ensure that the plant continues to play an important strategic role within the PSA group."
GM Europe has not made a profit since 1999 and the deal has raised fears about job losses at Vauxhall.
The UK factories at Ellesmere Port and Luton employ about 4,500 people.
With GM's Opel and Vauxhall operations, PSA Group would become the second largest carmaker in Europe, behind Volkswagen.
PSA said it would return Opel and its Vauxhall brand to profit, and expected to make savings of £1.47bn per year by 2026, with most of the cuts made by 2020.
Already, Wrexham MP Ian Lucas said he was "uneasy" about the takeover.