Parents 'threatening' teachers at St Brigid's school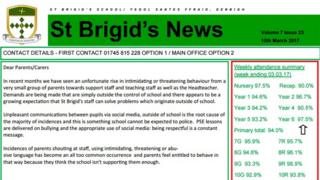 There has been an increase in parents using "threatening behaviour" towards teachers at a Denbighshire school, its chairman of governors has said.
Anthony Hannigan made the comments in a newsletter in support of staff at St Brigid's school in Denbigh.
He said the main cause was "unpleasant communications" between pupils online which teachers could not control.
He did not reveal how many cases there had been but said most parents were "extremely supportive".
"Demands are being made that are simply outside the control of the school and there appears to be a growing expectation that St Brigid's staff can solve problems which originate outside of school," he said.
Parents will be asked to leave or their phone calls will be terminated if staff are threatened in future, said Mr Hannigan.
Former convent school St Brigid's has about 500 pupils aged from three to 19.