St Asaph Cathedral extension and refurbishment work starts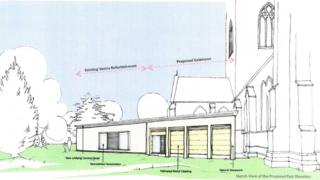 Work has started on a major extension and refurbishment of St Asaph Cathedral, in Denbighshire.
The project, costing about £330,000, will include a tea room, community meeting rooms and toilets.
Construction is expected to take five months to complete, but the cathedral will remain open throughout.
The Dean of St Asaph Cathedral, the Very Reverend Nigel Williams, said it had taken a long time to plan and he was "delighted work has now started".
"The new tearoom and facilities will be a major boost for tourism to the city, encouraging coach companies to stop in St Asaph and visit the cathedral and local area," he said.
Extensive archaeological excavation has taken place to ensure no ancient graves are disturbed by the work.
Cathedral officials have also applied for funding for an interactive display to "show-off the many treasures" inside.